ZigClimb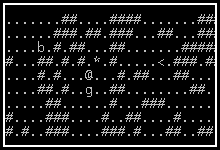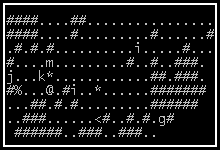 You listened eagerly to the old man at the fireside as he described the ancient temple and the riches to be found there. His dire warnings about the fate of the others who had tried to plunder the temple and never returned, however, fell on deaf ears...
ZigClimb is a full roguelike game written in 1 kilobyte of source. It's moderately challenging but very winnable. Sneak your way through the later levels by clever positioning and let the monsters fight amongst themselves!
The ZigClimb source owes a lot of its structure and tricks to the excellent 1KBRL A Journey to Hell.
Features
Monsters of different strengths, represented by later alphabet letters
Weapons and armour upgrades
Monster versus monster combat
10 levels to explore and a reward level
Fully commented source code
Tips
Monster of higher strengths (later letters) require higher-powered weapons to hit. If the difference between the monster (e.g. 'f') and your weapon (e.g. 'a') is more than 4 letters, you won't be able to damage them. Find a better weapon!
Download
v1 - released 10/01/10
Download source and binaries (Win32 & linux) [151kb]
Links