FlatlineRL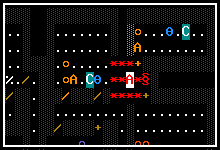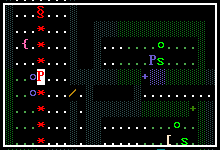 SOLDIER! You WILL be boarding the Space Hulk designation OE1x1 and you WILL be tasked with shutting down the COMPUTER CORES controlling the SHIP SYSTEMS.
If the AUTOMATED DEFENSES get in your way you WILL have MY authorization to use ANY FORCE NECESSARY to get the job done. IS THAT Understood?
Well, WHAT ARE YOU WAITING FOR soldier? HUTT!
FlatlineRL was my entry in the 2013 7DRL competition. It sees you commanding a remote drone tasked with penetrating a space hulk and fighting, or sneaking, past its automated, patrolling defenses.
Features
Stealth gameplay and sound propagation system
Modern melee and ranged weaponry
Automated robotic patrols to avoid or destroy
Fully proceedurally generated
Download
v1.1 - released 18/03/17
v1.1 includes a fix for the bug discovered by TheUberHunter (youtube link).
Download (Win32) [requires .net]
Download (linux 32-bit, 64-bit - YMMV) [requires mono + libsdl]
v1.0 - released 17/03/13
Download (Win32) [requires .net]
Download (linux 32-bit, 64-bit - YMMV) [requires mono + libsdl]
Source
See the GPL-licensed source on github
Links